24 Hour Akhanda Ramayana Chanting – Rama Navami Celebrations (Saturday 17th April to Sunday 18th April)
April 17 @ 9:00 am

-

April 18 @ 10:00 am
Description
Come and join this free event with your family and friends to celebrate the birth of Lord Rama with 24 hours of Chanting of Tulsi Ramayana
About this Event
Chinmaya Misson Sydney Invites you to join Rama Navami celebrations at the Castle Hill Ashram or Online (Zoom).
Yes! We are opening the Castle Hill Ashram to all devotees to attend this special auspicious event. Due to COVID safe restrictions, entry will be limited and strictly only for registered devotees with an Eventbrite Ticket.
So don't miss this opportunity, reserve your spot by REGISTERING NOW!
We will commence the Rama Navami festival celebrations with 24 hours of non-stop Chanting of Tulsi Ramayana (Ramacharitmanas) from Saturday 17th April (9am) to Sunday 18th April (10am).
You & family can join the chanting Online (on Zoom) OR Attend in person at the Castle Hill Chinmaya Ashram*
PROGRAM:
Saturday 17th April
9.00am:                                Gurudev Paduka Pooja
9.30am(till next day):      Akhanda Ramayana Chanting (24hrs) & Bhajans
Sunday 18th April
9.30am:                                 Bhajans & Arati
10.00am:                               Finish
Note:
1) * Between 17th April (9pm) to 18th April (7am), the program will be online only, we will be zooming into Chinmaya Sannidhi Rama Parivar live but ashram will be closed for Public. Other times you can attend physically at the ashram or online zoom. Don't forget to register.
2)During your visit to the ashram, Strict COVID restrictions apply. You will be allowed entry to ashram only during the time that you have mentioned in the registration form.
3) No prasad will be served during the 24 her chanting, so if you are going to come and spend the entire day at the ashram, pls bring your own food and keep it in your car.
Contact Anu Shukla on 0411 165357 if you would to lead the chanting of Tulsi Ramayana
If you need a copy of Tulsi Ramayana to chant, click on the link below
https://drive.google.com/file/d/1ap-k9beigzK9LL8JaDSWcudp6kQAUkte/view?usp=sharing
Click on REGISTER !!
Registrations will close on 10th April, so that we can prepare for the festival in a COVID friendly way. Thank you for your support & co-operation!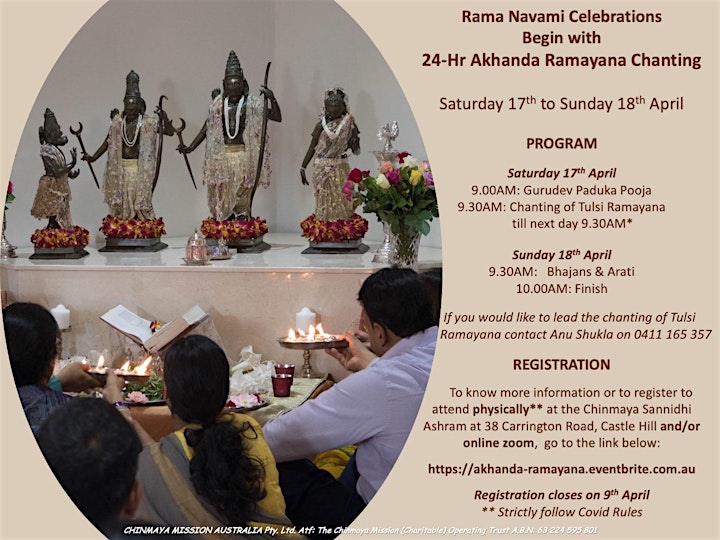 Related Events